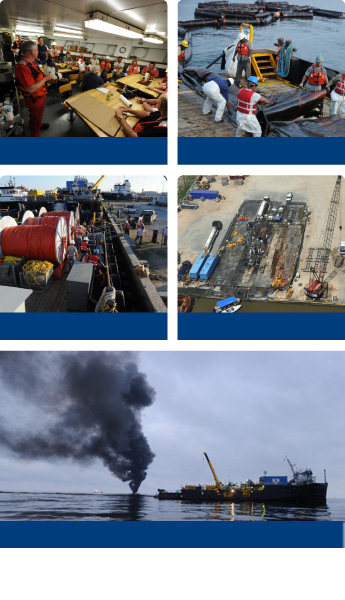 Oil Spill Response and In-Situ Burning
A term that is synonymous with oil spill response is in-situ burning. The M/V Premier Explorer was the command and control vessel for this operation after the 2010 oil spill in the Gulf of Mexico. Explorer commanded the entire in-situ burn operations fleet with multiple task forces and vessels in cooperation with the U.S. Coast Guard and under client direction.

• Crew fully trained & certified in HAZWOPER
• 20-ton personnel rated crane
• Fully classed & certified by the USCG and American Bureau of Shipping (ABS)
• 2,500 square feet of deck space
• Fully outfitted with Internet, phones & computers
• Dedicated office & accommodations for client representatives

During the oil spill, Premier Venice served as a major command and control facility, as well as staging area for boom and supplies and as a decontamination center for boom and vessels returning to port.

More than 33-acres are available for staging and temporary housing of oil spill workers with 3000' of deepwater docking space for convenient access to the Gulf of Mexico.